On Sunday, December 18 at 4pm we are hosting an Advent/Christmas Hymn Sing in the church. This is a wonderful opportunity to invite a friend.
This year our Christmas Eve Services are Saturday, December 24 with a 4 pm Christmas Eve Family Service and then a 10 pm Candlelight Service The late service will be livestreamed and also available afterwards to watch at your leisure by going to our website: www.stpaulsnanaimo.ca.
On Christmas Day, we have one service at 10 am and it will be a Book of Common Prayer Christmas Day Service.
We will be hosting an informal potluck lunch after the Christmas Day service on December 25. You are most welcome to join us for any or all these opportunities to worship and gather as a parish family. Please join us!
You can access the church from the front door on Church Street or via the parking lot at the back of the church where there is a ramp for those with mobility issues.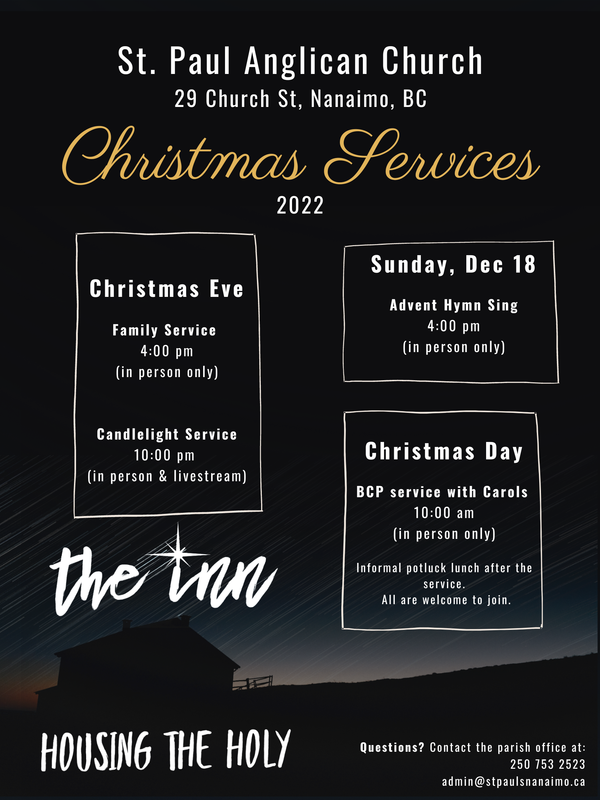 <![CDATA[VEhyS0c4NEdIM3RZb2t4N2tDbzViRWZuREsydnpoMHZOMW1lZWdMaTFRWkZPaUtiR25PMHA2VytMNzhxRlZxL1QvYk9qWjlmNzhXYWtEL2VvMjJ4c3BNYkhjVFFVSXI2VEUxODFBaWVVYXIrRE5WUXk5OElJbnV0bWZ6Y291clc0RFM1dVZOS3hCanFCSXNoaUEzT3RYalhnN2V5VnYwbUVNdkx6RTZWMExFPS0tc0QrZDFDTlVNdUs2R0s2ZW9VWEZ2UT09--016bc9ba9fa6993904ba3420253ed8844aea2fa3]]>